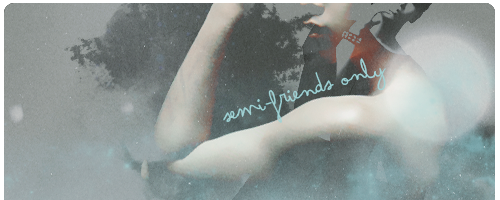 WHEN IT COMES TO GRAPHICS
Credit me
handsocks
in your bio if you are using the headers on your LJ or handsocks@LJ if you are using them outside of LJ.
For icons in the comments section please put
made by:
handsocks
YOU MUST DO THIS. K? THX. DO NOT EDIT THE IMAGE IN ANY WAY,
THAT MEANS SIZE, TEXT, COLOR, ANYTHING AT ALL.
Leave it as it is alright?
Don't hotlink, it kills my photobucket.
Want something that is custom? ASK ME.
Follow the above and I won't hunt you down and stick a fork in your eye.

ALL GRAPHICS POSTS DO NOT STAY PUBLIC, THEY WILL REMAIN OPEN FOR A WEEK BEFORE GOING FRIENDS ONLY AND THEN AFTER SIX MONTHS THEY ARE MADE COMPLETELY PRIVATE. BLAME THE PEOPLE HAVE YOINKED MY GRAPHICS AND SAID NOTHING.

Fan fics
Cheshire Cat
Chapter one
Chapter two
Chapter three
Chapter four